Visionary is Our Name,

But Volunteering is Our Game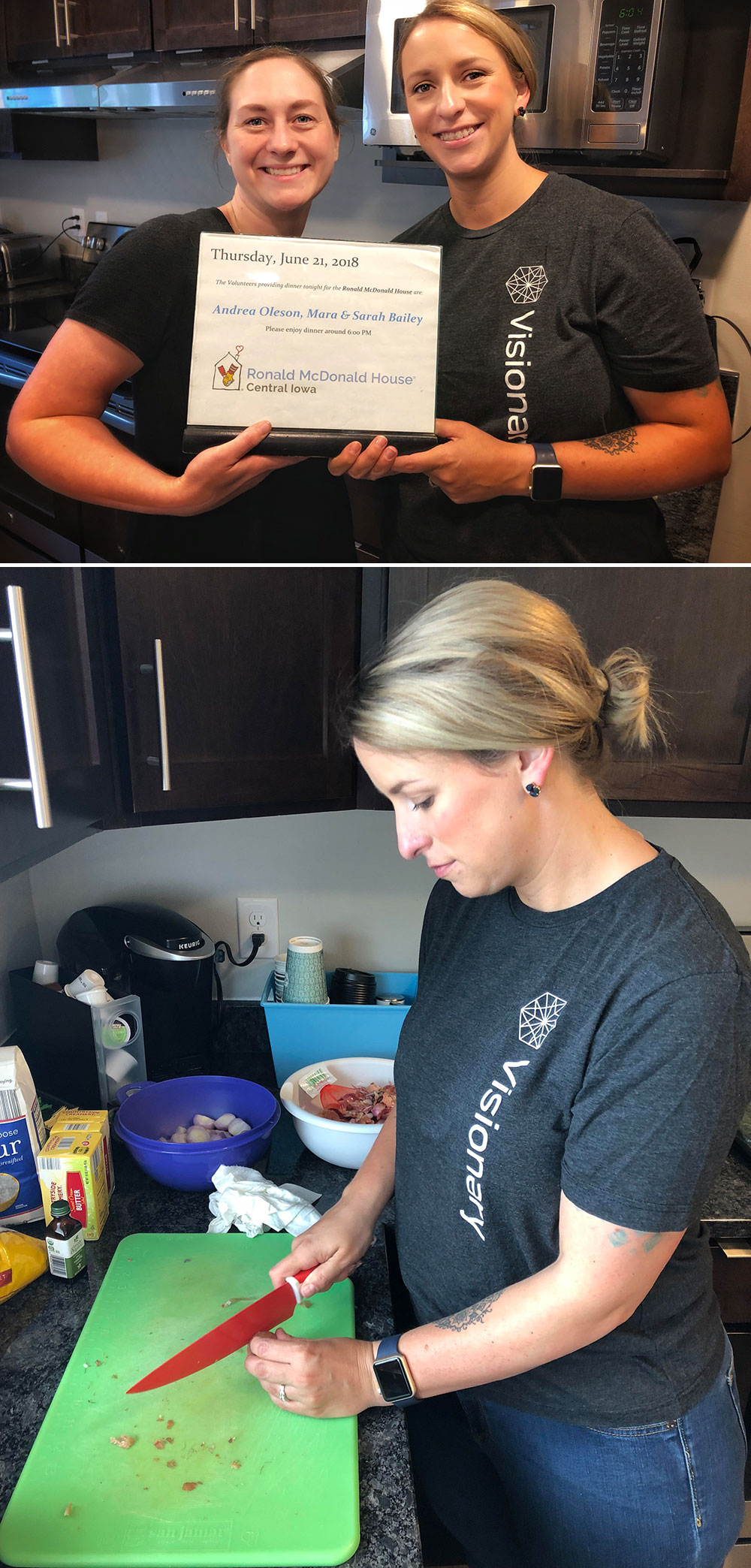 VTO – What is it?
VTO, also known as Volunteer Time Off, is a benefit that some companies extend to their employees as a way to better connect to their outside community. The company designates a set number of hours that each eligible person is able to take to use towards serving various organizations in the surrounding area without having to take from their PTO/Vacation.
Does Visionary offer this to their employees?
Thanks to the VTO committee: (Sarah Bailey, Holly Murphy, Kelsy Sinnwell and Jammie Hoffman), Visionary now offers 16 hours of Volunteer Time Off to all full-time employees! Hey, thanks guys!
Their purpose of bringing this type of program to Visionary is to:
Support volunteer activities that enhance and serve the communities in which we live and work
Support and encourage employees who wish to serve
Provide opportunities for employees to grow their interpersonal skills, including team work, leadership and communication
Each employee, depending on their date of hire, will get a calendar year to use up to 16 hours of VTO towards one or more pre-approved organizations. Their time can be completed during normal work hours that are approved by their manager(s), or they can extend to nights/weekends depending on when a particular event is occurring.
What are the benefits from a VTO program?
While the committee notes that there are seemingly innumerable benefits to providing this program to all full-time employees, they have listed out a few main benefits worth mentioning.
Employee recruitment and retention
Improved soft skills and professional growth
Increased productivity
Create a better connection to the community
Establish opportunities for employees to feel fulfilled
The bottom line is that people care about working for a place that cares about the community surrounding it. Visionary has exemplified this through years of various sponsorships but now we're taking it to the next level!
Wow, so neat! Do you have an example of a Visionary utilizing this benefit?
We're so glad you asked! Sarah Bailey recently did a trial run of sorts on behalf of the VTO committee by volunteering her afternoon for the Ronald McDonald House here in Des Moines. Below is her write-up of her experience along with some photos from the event itself. Needless to say, Sarah had a blast and wants everyone else to join in on the great experience of giving back!
Sarah's VTO Experience
On Thursday, June 21st I took the afternoon off with a couple friends to prepare a meal for the families at the Ronald McDonald House of Des Moines. The Ronald McDonald House is a truly amazing organization that allows the parents and siblings of children (under age 21) being treated at an area hospital to stay for practically nothing - $10/night - at their 18-room facility. Families stay anywhere from one night to months at a time. During our time there we were able to tour the facility and see their beautiful accommodations. Everything was spotless and modern thanks to the volunteers and a complete remodel that was done just last year in a Hubbell Homes "Extreme Build" project which resulted in a finished outer shell in just 6 days with a goal of completing the entire building in 11 days. The rooms also provide toiletries free of charge as many families are coming in from out of town during emergencies and totally unprepared for an extended stay. They also provide many free amenities such as coffee and snacks and the facility includes a movie room, play room, lounge, two full kitchens (that are stocked!) and two kitchenettes. As we walked around we read the families' stories that were written on dry-erase boards posted outside their rooms. I won't soon forget seeing the names of twin boys that were born at only 25 weeks weighing only 1 lb. 11oz and 1 lb. 14oz.
Before the event, we carefully planned a menu and shopped for the groceries to feed around 50 people. We decided on Thai basil chicken over jasmine rice, salad with homemade ginger dressing and buttermilk chocolate cake for dessert (spoiler: this was everyone's favorite part). On the day of the event we arrived at the Ronald McDonald House around noon armed with all our groceries. We spent hours prepping since all the meal preparation must be done on-site. We made the salad dressing, prepped and cooked the Thai basil chicken (I personally peeled and cut approximately 40+ shallots), cooked about 8lbs of rice between two crockpots, chopped and prepped vegetables for the salads, and made ganache frosting and baked three chocolate cakes. Once it was made, we loaded it up into crockpots and then drove 1/3 of the food over to the Mercy Hospital pediatric family room. We then came back and served the families at the RMH. They were so grateful and very complimentary. We then packed up the remainder of the food for the families that stayed at the hospital over the dinner hour to enjoy later. It was such a fun and rewarding volunteer opportunity for someone who loves to cook. There's no doubt that we will be back to volunteer again.
So, in conclusion…
Team Visionary is so excited about our new benefits and we can't wait to utilize them to better serve those around us who need some extra support! Stay tuned for updates, posts and pictures! If you happen to see someone rocking our new "#BeVisionary – Volunteer" shirts, we hope you say hi!
"Volunteering is the ultimate exercise in democracy. You vote in elections once a year but when you volunteer, you vote everyday about the kind of community you want to live in." -Marjorie Moore
Are you an organization that is looking for some volunteer support for your next event? Email your information to: vto@visionary.com!
Like What You See?
Subscribe to Our Mailing List
We won't fill your inbox with tons of emails. And you can unsubscribe at any time.