Stacey Myers
Project Manager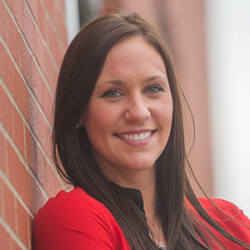 Stacey grew up in Titonka, Iowa located in the northern part of the state. She attended Simpson College in Indianola where she received a BA in Sports Administration and was hired by Visionary upon graduation.
At Visionary, Stacey focuses on being the Project Lead for FASCnet for FedEx, being a member of the Social Sponsorship Committee and keeping all of us laughing on a daily basis.
When she isn't loving life at work, Stacey enjoys cycling and checking out local breweries if the weather cooperates! She also participates in at least a part of RAGBRAI every year. Stacey loves to cook, is an avid brunch fan and is a self-diagnosed crazy dog lady with her one-year-old basset hound pup, Stumpy. When she isn't obsessing over the cutest dog you'll ever see, she loves to go thrifting.
Stacey resides in Prairie City.
 See the rest of our team