Mike Hughes
Systems Administrator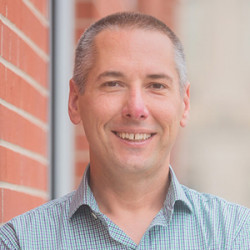 Mike is originally from Rockville, Maryland. He has an educational background in Computer Science with several technical certificates to go along with it.
Before coming to Visionary, he worked in the Statistics Department at Iowa State while earning his pilot's license. Prior to that, he was a System Administrator at the University of Maryland University College.
Besides being awesome at answering all of our frantic questions about why our computers are acting up, Mike focuses on building robust solutions. He is a Red Hat Certified System Administrator.
When he isn't loving life at the office, Mike spends his time caring for his pets, bicycling, completing home projects, welding, woodworking, boating, scuba diving, traveling and cooking.
Mike has 3 dogs, 2 cats and 8 chickens and resides in Easter Lake with his family.
 See the rest of our team