Monica Langin
President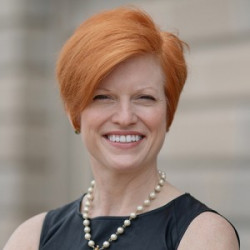 Monica was raised in a small town in beautiful Southwest Iowa. After graduating High School in 1986, she moved to Missouri where she completed her Bachelor's Degree in English and discovered the benefits of writing and editing using a computer versus using her Sears typewriter.
She moved to Oregon and Florida after college to pursue her dream of publishing a small press literary magazine. Eventually, she moved back to Iowa and expanded her knowledge of computers and software when she took a job creating product ads for The Thomas Register of American Manufacturers, and a second job creating sofware user manuals. After taking a job as the Training Manager for New Horizons Computer Learning Centers in Des Moines, She became interested in writing Visual Basic, and building web sites in HTML (using Notepad).
Then in 1999, she was offered a fabulous job with Visionary Solutions as a Project Manager for website projects. Her experiences there lead her to a new opportunity as a web developer at Wells Fargo Home Mortgage in West Des Moines. And then a few years later she found her way back to Visionary Services where she has been in professional bliss for the last 7 years, and intends to stay (if they will let her). Outside of work, Monica enjoys listening to live music, playing the piano, cooking, homebrewing, and hanging at home with her family.
Recent Articles & Posts
 See the rest of our team